Introduction: What is Collage Art?
In the 21st century, collage has comfortably established itself as a form of contemporary art. But what is collage exactly, and how did it become part of high art?
Collage is an art form and technique in which individual pieces or materials—think of pieces of paper or photographs—are assembled into a new and autonomous artwork with a predominantly two-dimensional character.
We stress the two-dimensional character of Collage Art, hence its three-dimensional sibling: Assemblage Art. In this case, the artist creates rather a sculpture through assemblage instead of a painting or a work on paper. However, collage artists can still implement three-dimensional objects onto their two-dimensional surfaces. In doing so, the distinction between collage and assemblage can often be fluid.
We travel back to the start of the 20th century in France, where collage would find its way to the realms of high art in 1912, orchestrated by Cubism's greatest masters, Pablo Picasso & Georges Braque (cf. infra). Braque's Fruit Dish and Glass (see featured image at 24. Georges Braque) and Picasso's Still Life with Chair Caning (see featured image at 1. Pablo Picasso) are seen as the earliest forms of collage art in Western art history, resulting in the term 'collage' derived from the French word coller—which means 'to glue' or 'to stick.'
Ever since, Collage Art would play a role in art history, as a favorite art form for Cubists, Dadaists, and Pop Artists, or in today's art world—think of the digital collages by Jorg Karg or collage as a strategy for painters in an era dominated by appropriation and the recycling of existing images. As a result, in this article, we are pleased to present an extensive and reasoned selection of the most important collage artists in the world.
1. Pablo Picasso
We open our list with one of the pioneers mentioned above of Collage Art, the one and only Pablo Picasso. Born in 1881 in Malaga, Spain, and passed away in 1973 in Mougins, France, Picasso was a true Modernist and innovator. The iconic artist pushed painting towards representational abstraction at the start of the previous century, pioneering Cubism and, as mentioned in our introduction, Collage Art.
Still-life with Chair Caning, Spring from 1912 is one of the earliest examples of collage as high art in Western art history, as Picasso incorporates a printed oil cloth and an actual rope onto a two-dimensional surface.[1]
For further reading on Pablo Picasso, we highly recommend Taschen's Pablo Picasso: 1881–1973 from the Big Series Art.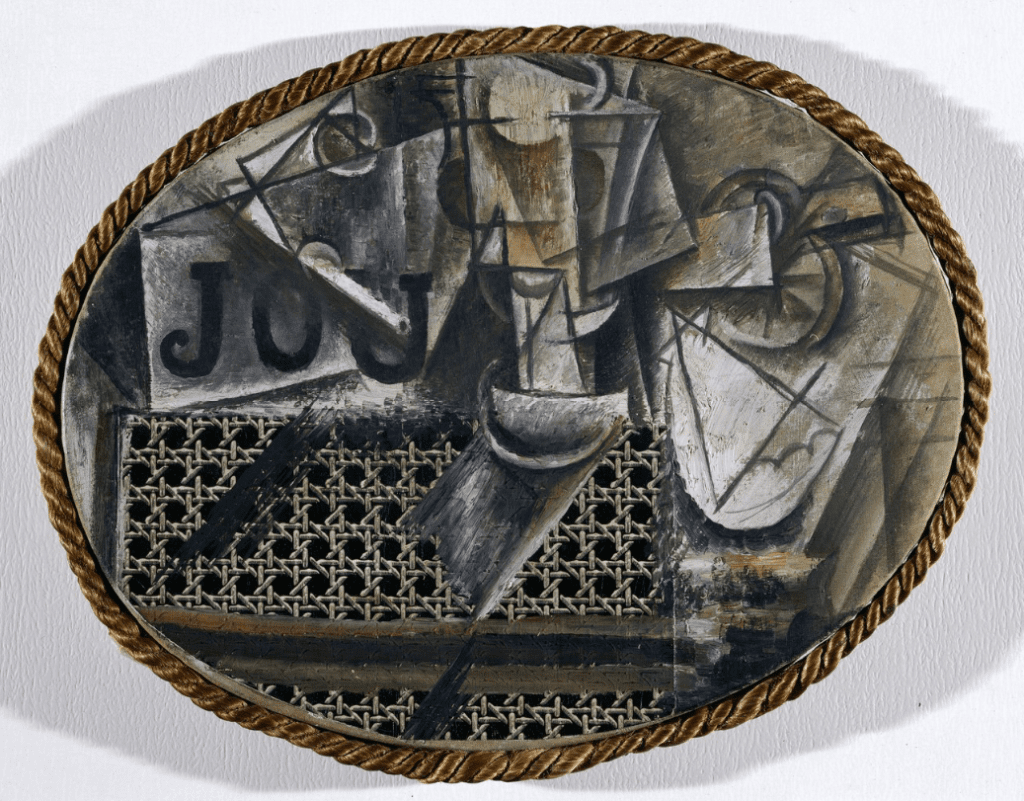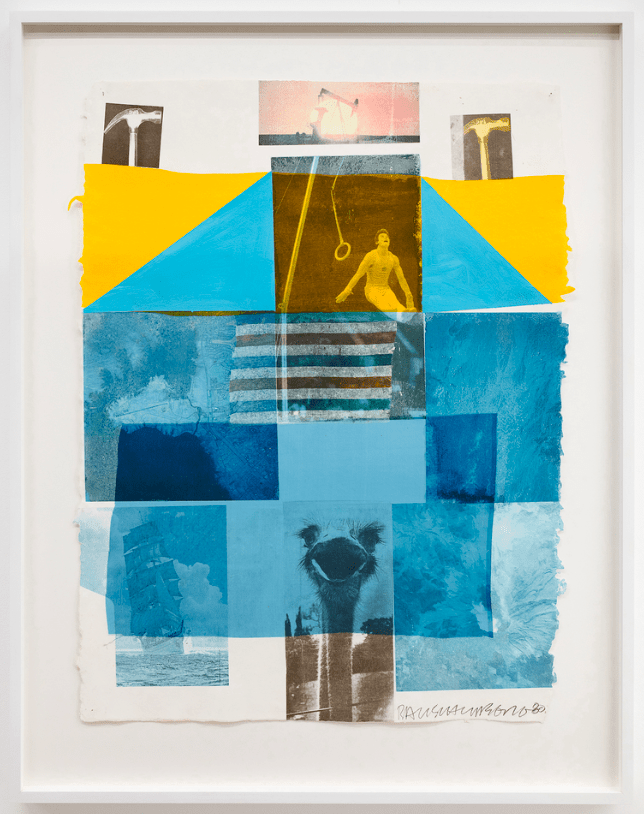 2. Robert Rauschenberg
Born in 1925 in Texas and passed away in 2008 in Florida, Robert Rauschenberg is an American artist best known for pioneering Pop Art in the 1960s. He incorporated popular culture with technical experimentation, creating characteristic postmodern artworks marked by eclecticism.
Besides his three-dimensional works and silkscreen paintings, Rauschenberg was also a true collage artist, using photographs from books and magazines as his source material, deconstructing the images before reconstructing them using paint as a visual strategy to create a coherent artwork on paper.[2]
For further reading on Robert Rauschenberg, we highly recommend the monographic publication Robert Rauschenberg
.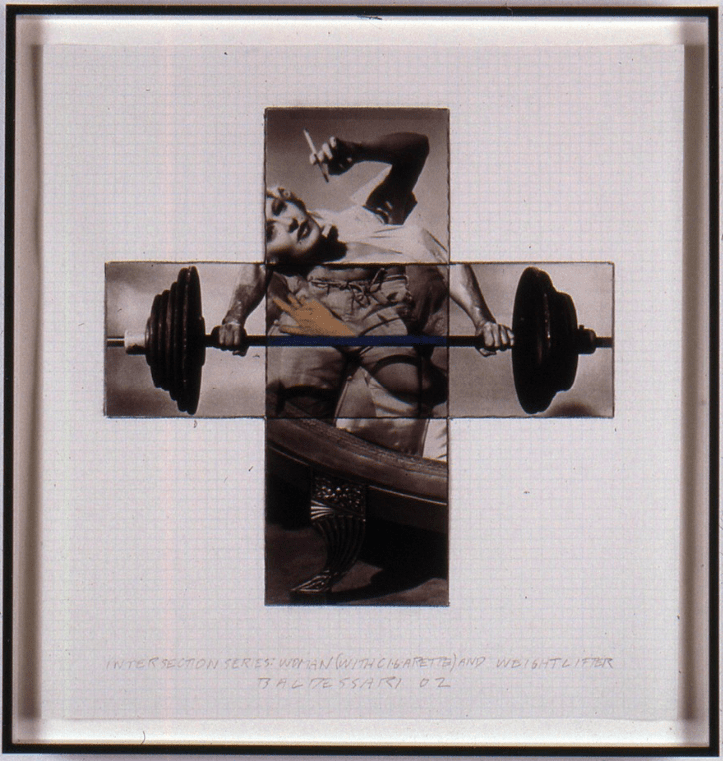 3. John Baldessari
After the pioneers of Cubism and Pop Art, a pioneer of Conceptual Art is next. Born in 1931 in California and passed away in 2020 in Los Angeles, John Baldessari implemented collage in his idea-based practice.
Baldessari transformed popular culture and art historical iconography by creating unique and authentic conceptual artworks based upon meditations on the image, language, and appropriation. His Intersection Series (see image) is one of the most evident examples of how Baldessari incorporates the possibilities of the medium collage in a conceptual context, using a cross structure to create new images as intersections, followed by a series of new possible analogies for interpretation.[3]
For further reading on John Baldessari, we highly recommend his impressive six volume Catalogue Raisonné.
4. David Hockney
We encounter a second Pop Artist in our list, with the most dominant British protagonist for the art movement in question and a true world citizen, but above all, one of the most iconic painters in the world, David Hockney. Born in 1937 in Bradford, England, and currently residing and working in Normandy, France, Hockney created a series of iconic photo collages in the 1980s.
The British artist and painter had always been intrigued by photography, optics, its influence on art and painting, and the human perception of our surroundings. With his photographic collages, Hockney experiments with the possibility of fragmenting a scene into several pieces, achieving a result that is—according to Hockney—more similar to how the eye works instead of viewing a single-shot photograph of a scene.[4]
For further reading on David Hockney, we highly recommend the monographic publication David Hockney by Tate Publishing (2017).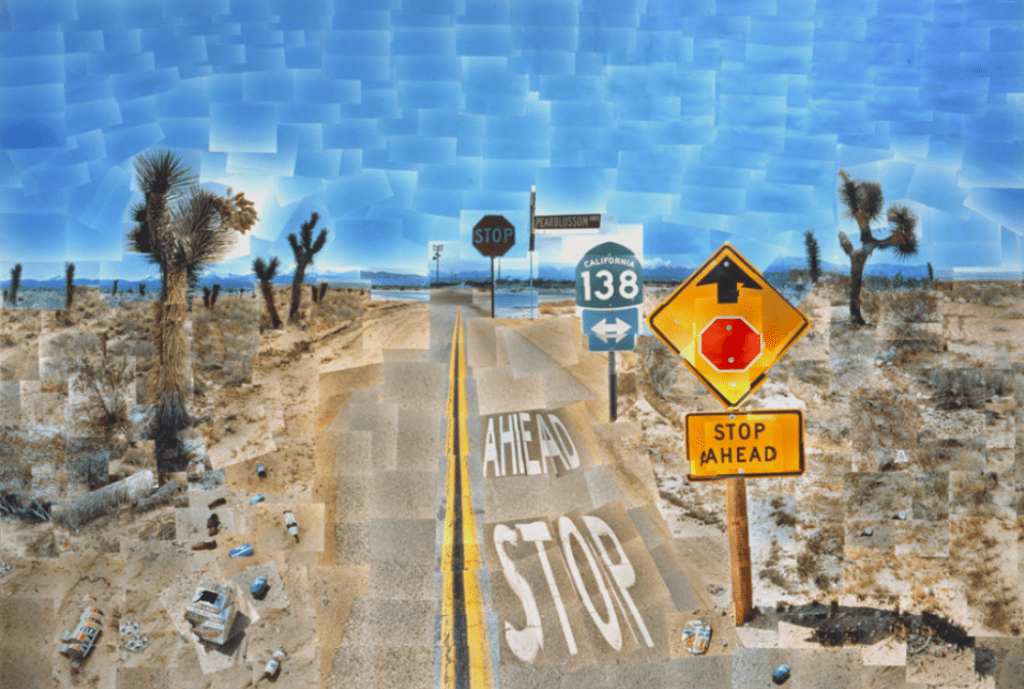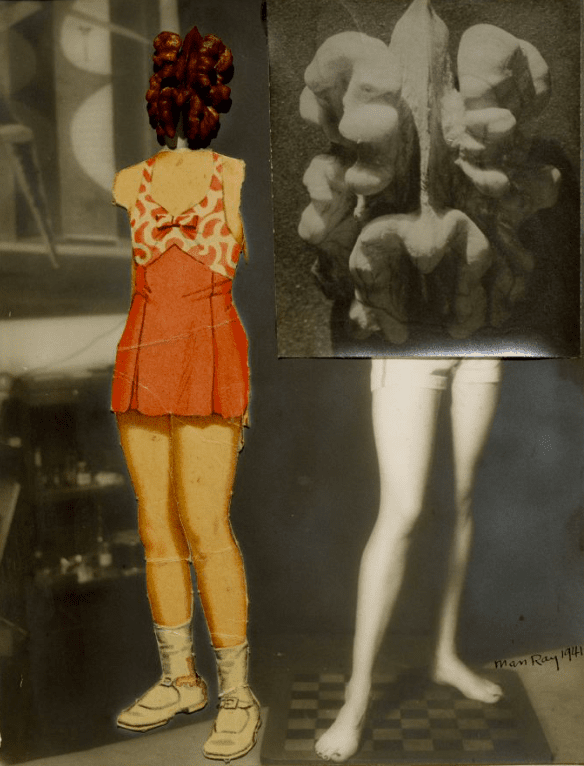 5. Man Ray
There are still two other art movements that adore collage art, which we have yet to see a representative of; Surrealism and Dada. Our next artist is, in fact, a key figure for both. Born in 1890 in Philadelphia, the United States of America, and passed away in 1976 in Paris, France, Man Ray is one of the most influential artists of the first half of the 20th century.
His complex and experimental body of works encompassed various media. Think of painting, sculpture, photography, early video art, printmaking, and also collage. The visual strategies and possibilities of Collage Art are perfect for a Dadaist and Surrealist such as Man Ray. It enables the artist to create absurd, surreal encounters within the image, such as his humorous artwork Les Filled des Noix, pasting nuts on top of two female figures, originating from a different source.[5]
For further reading on Man Ray, we highly recommend the monographic publication Man Ray published by Skira Editor.