Introduction: Contemporary Sculpture
When it comes to contemporary art forms, contemporary sculpture is right up there among painting and installation, being practiced by the most influential modern & contemporary artists of today. But before we dive into those illustrious names, what is contemporary sculpture?
Contemporary sculpture consists of the artistic practice of sculpture from roughly 1950/1960 to today, in which three-dimensional objects are created—and intended by the artist—as an artwork.
The transition of modern sculpture to contemporary sculpture coincides with the arrival of Minimal Art and Conceptual Art in the 1950s and 1960s. Both art movements would radically change the art world, and sculpture, in particular, introduced new materials, conceptual strategies, and the integration of ready-mades in the tradition of Marcel Duchamp.
Recurring general characteristics of contemporary sculpture consist of (i) the often (post-)conceptual foundation of the artwork; (ii) the use of ready-mades; (iii) the use of various industrial materials and techniques; (iv) the fading distinction between sculpture and installation art and (v) the often outsourcing of the manufacturing process by the artist.
As a result, we encounter a vast array of materials used in contemporary sculpture. The traditional materials—wood, marble, clay, or bronze – are still very frequently used. However, a new set of different materials has found its way to sculpture—think of PVC, stainless steel, concrete, foam, and much more—implementing industrial processes, engineering, and new technologies—for instance, 3D printing—resulting in new possibilities.
Now, let's accompany the definition and characteristics with clear examples of contemporary sculpture. And what better way to do so than to discuss today's top 30 most important contemporary sculptors? In this article, we are pleased to present the most extensive online resource on contemporary sculpture, with a reasoned selection of 30 highly established artists, ranked from 30 to 1 using the Artfacts algorithm measuring their influence and importance using objective data and career facts.[1]
S.n.: As we can only touch briefly on every artist, we have included hyperlinks at the end of every artist biography, referring to the best monographic publication available on the artist in question. If you would be interested in reading a more extensive and printed publication on contemporary sculpture, we highly recommend Sculpture Today by Judith Collins, published by Phaidon in 2014.
30. Jonathan Monk
We start with Jonathan Monk, born in 1969 in Leicester, the United Kingdom, residing and working in Berlin, Germany. The British sculptor believes it has become impossible to be original in today's art world, while simultaneously, the art world demands and values originality more and more. Monk critiques and reacts to this tendency by re-examining and recasting existing artworks by iconic conceptual and minimal artists such as Sol LeWitt or Lawrence Weiner.
Through appropriation strategies, Jonathan Monk critiques and asks, "what's next?" in art. His famous stainless steel works of deflated sculptures refer to Jeff Koons' (cf. infra) famous balloon dogs and rabbits in a state of collapse. This symbolic and iconoclastic action perfectly illustrates how Monk achieves new, original and relevant artworks by revisiting sculpture from the recent past.[2]
For further reading on Jonathan Monk, we highly recommend the monographic publication Jonathan Monk: Until Then… If Not Before…
29. Dan Graham
Up next, we encounter Dan Graham. Born in 1942 in Illinois, residing and working in New York, the American artist is one of the most celebrated sculptors of his generation. Graham was a critical voice, contributing both as an artist and as a curator and essayist to the development of Conceptual Art, Minimal Art, and Critique Art.
In his sculptural practice, Graham creates unique three-dimensional constellations, examining the symbiosis of architectural environments in relation to their inhabitants. His internationally lauded curved transparent structures using steel, glass, and mirrors are recognizable and can be implemented in almost any environment, whether a sculpture or an installation.[3]
For further reading on Dan Graham, we strongly recommend the monographic publication Dan Graham: Catalogue Raisonne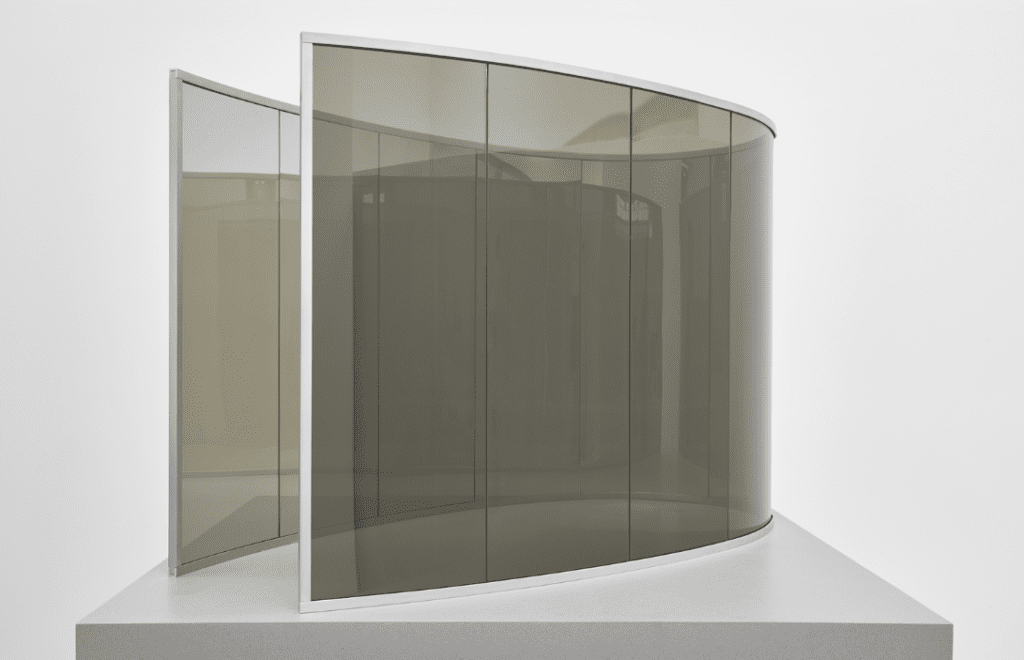 28. Leiko Ikemura
Born in 1951 in Tsu, Mie, Japan, Leiko Ikemura is a contemporary artist living and working between Berlin and Cologne, Germany. Ikemura is one of the most famous painters today and a leading sculptor. She turned to three-dimensional artworks in 1984 after painting for 30 years, mixing eastern and western sculptural traditions.
Her weapons of choice are bronze, terracotta, and clay, with which she creates biomorphic forms and fragments of female subjects. In the tradition of Rodin, she creates semi-figurative sculptures, alternating abstract fragments with female forms.[4]
For further reading on Leiko Ikemura, we highly recommend the monographic publication Leiko Ikemura: Sculpture, Painting, Drawing.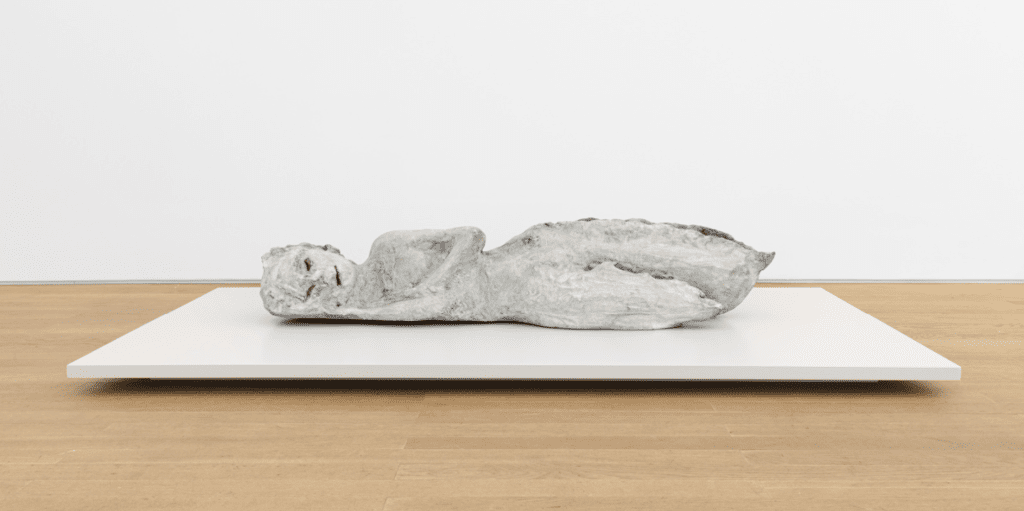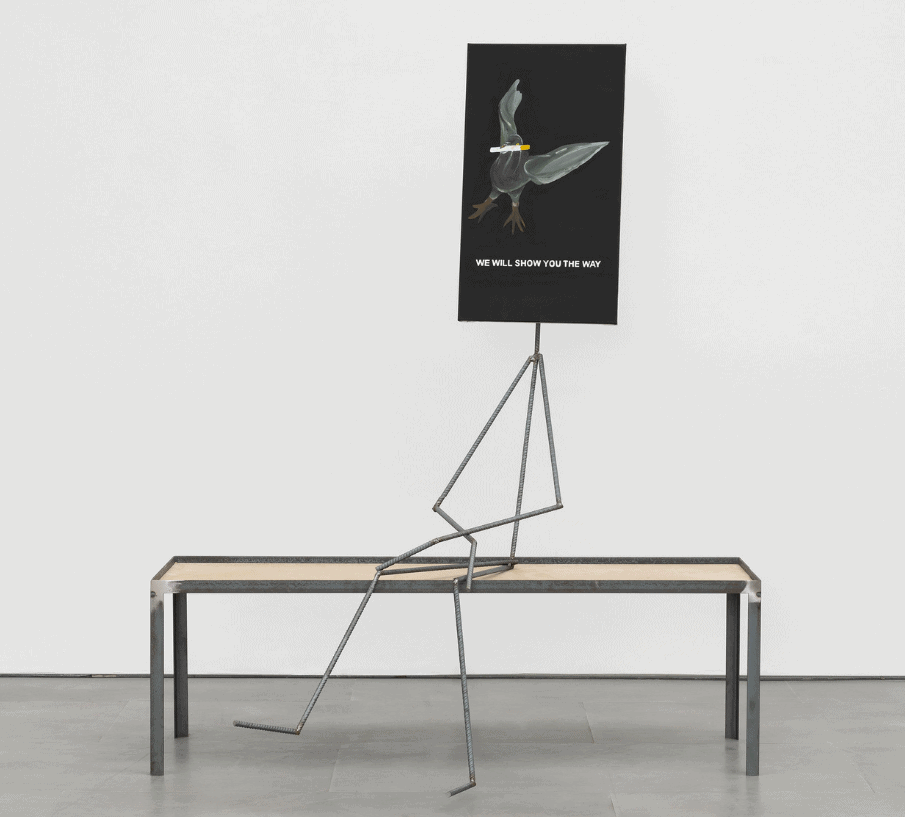 27. Laure Prouvost
Laure Prouvost, born in 1978 in Croix-Lille, France, resides and works between Antwerp, Belgium, and London, the United Kingdom. Prouvost is a multidisciplinary artist, producing exquisite sculptures with a touch of humor, but above all, with a critical undertone.
The French artist aims to create a dialogue between fiction and reality. The viewer is directly involved, as she addresses the spectator directly with her written messages in the tradition of Conceptual Art. With her sculptural practice, she uses ready-mades or metal, creating her unique and recognizable stick figures.[5]
For further reading on Laure Prouvost, we highly recommend the monographic publication Laure Prouvost: Deep See Blue Surrounding You / Vois ce bleu profond te fondre.
26. Otobong Nkanga
Otobong Nkanga, born in 1974 in Kano, Nigeria, is a contemporary artist residing and working in Antwerp, Belgium. As with Laure Prouvost (cf. supra), Nkange is a multimedia artist, with sculpture being a significant medium within her oeuvre.
Her sculptures and installations discuss the social and topographical relationships connected to our everyday environment. The central concept is the crucial notion of "land." Doing so, her sculptures take on issues such as cultural inheritance, geographic history, historical culture, appropriation, politics, and identity.[6]
For further reading on Otobong Nkanga, we highly recommend the monographic publication Otobong Nkanga: Luster and Lucre.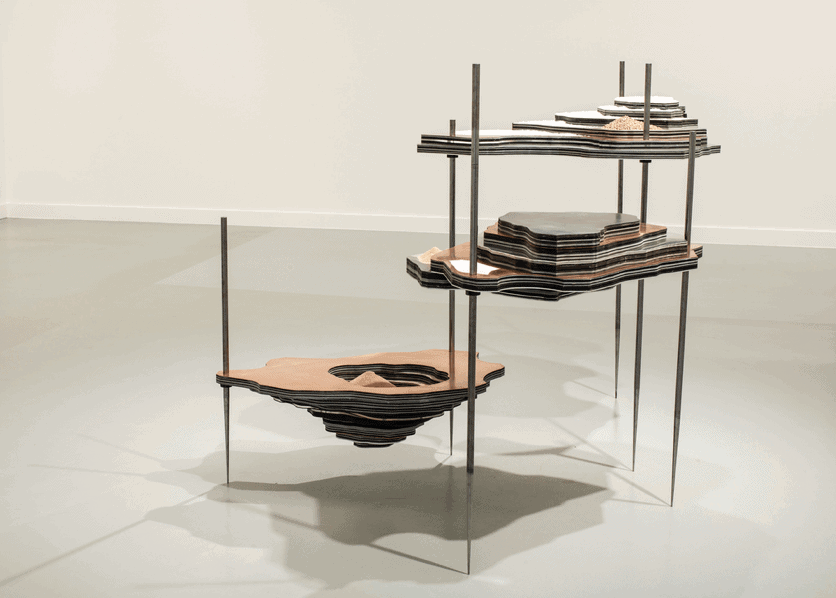 25. Daniel Spoerri
Born in 1930 in Galati, Romania, Daniel Spoerri is a