Introduction: Abstract Painters Who Are on the Rise Right Now
With our current show at CAI Gallery, we are thrilled to have two of the most exciting and emerging abstract painters in our gallery space. Plus, simultaneously, in our online viewing room we have the pleasure of hosting a third exciting prospect, which brought us to write this article. Today—within and beyond our gallery program—who are the most exciting abstract painters to collect at this very moment?
In abstract painting, we often hear, "everything has already been done." Or others state today's abstract painters all have too similar styles, be it with expressive abstraction or minimal abstract painting. However, some artists succeed in avoiding both pitfalls, distinguishing themselves with an utmost personal and recognizable style, a pretext and key indicator for any artist to be successful.
At CAI, we can identify the most exciting artists to collect, support, and invest in through a kaleidoscopic approach, rethinking our curatorial practice and art consultancy services. We analyze artists based on objective art scientific facts, track career trends, search for a steady upwards trajectory, and track or monitor the selling history of artists, both on the primary and secondary market.
With our knowledge as a platform and our experience as a gallery and art collection, we question the art-historical relevance of the artist in question, presenting besides an objective analysis also a subjective analysis by our advisory board of experts—such as art historians, curators, authors, and other actors working in the field.
We created a shortlist of eight must-watch, must-follow, or even must-collect abstract painters today. We made sure all artists in this list are still relatively affordable, have a promising artist profile and resume, excellent gallery representation, a steady selling history, and a career trend on a steady rise for more than five years now.
Please note the list is not a ranking, as the artists are listed alphabetically. We made sure to have a 50-50% balance of represented artists by CAI and artists beyond our gallery program. Feel free to discover all our artists or our services for collectors here. Now, without any further ado, let's dive into our list's first emerging abstract painter.
1. Johnny Abrahams
We open our list with Johnny Abrahams. Born in 1979 in Tacoma, Washington, residing and working in New York, Abrahams's abstract painterly practice directly results from an elegant and slow rhythm, using full shapes in a formal and minimal visual language.
The depicted shapes have a calligraphic character, marked by modernist simplicity and the artist's ongoing examination of the effects of light and our perception of light. Using a palette knife rather than a paintbrush, Johnny Abrahams applies the paint thickly, celebrating the sensual qualities of paint as a substance, inviting the sculptural aspects of painting into the discussion, but also the architectural imposition of the composition.
The art world has received the contemporary and calm, contemplative character of Johnny Abrahams' works very well in the past ten years, resulting in a steadily rising career trend. Abrahams has exhibited at the Oakland Museum of California and is represented by excellent galleries such as Vigo Gallery, Romer Young Gallery, Jack Hanley, and Joshua Liner Gallery.[1]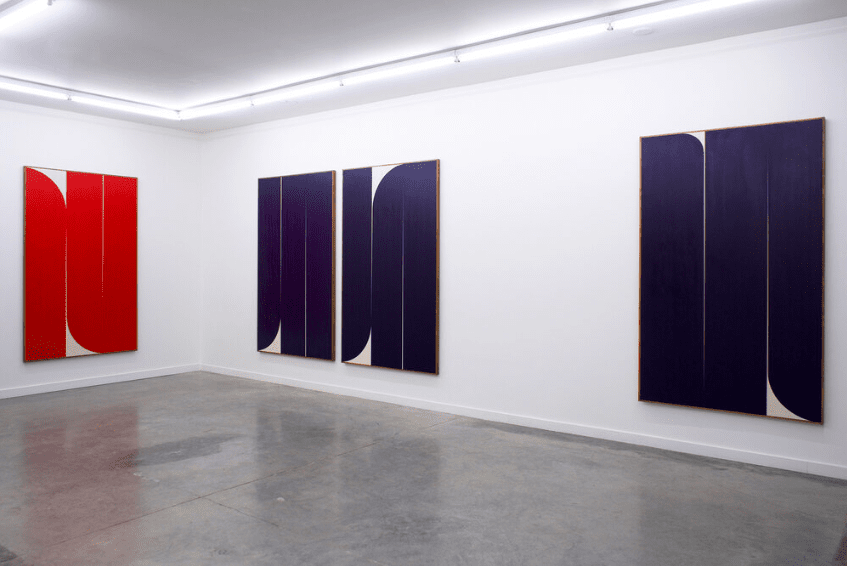 2. Aron Barath
Next, we have the first artist represented by our CAI Gallery program, Aron Barath. Born in 1980 in Novi Sad, former Yugoslavia, and currently residing and working in Budapest, Hungary, Aron Barath has been a true discovery for many the past few years.
His unique and recognizable compositions are strongly marked by colour theory and the interplay of Appollonian and Dionysian forces. At first glance, the paint seems to have been applied very expressively, in which chance seems to play a great role.
However, the production process of every painting follows a particular and well-thought methodology, layering complimentary colors. Depending upon the transparency, we shift from one end of the color spectrum to the other, where at some places, the colors cancel each other, creating white or gray by using the brightest colors. In doing so, the color and composition dictate the artist's gestures.
Barath frees himself from contemporary visual culture or communicational trends, resulting in pure, genuine, and 'truthful' paintings based on light, substance, and color. As a result, these rectangular 'bombs of color' kickstarted Barath's career, resulting in international recognition in just a few years with shows in Austria, the United States of America, Poland, and Belgium.[2]
For any further inquiries on Aron Barath, feel free to ask a catalogue with available works here.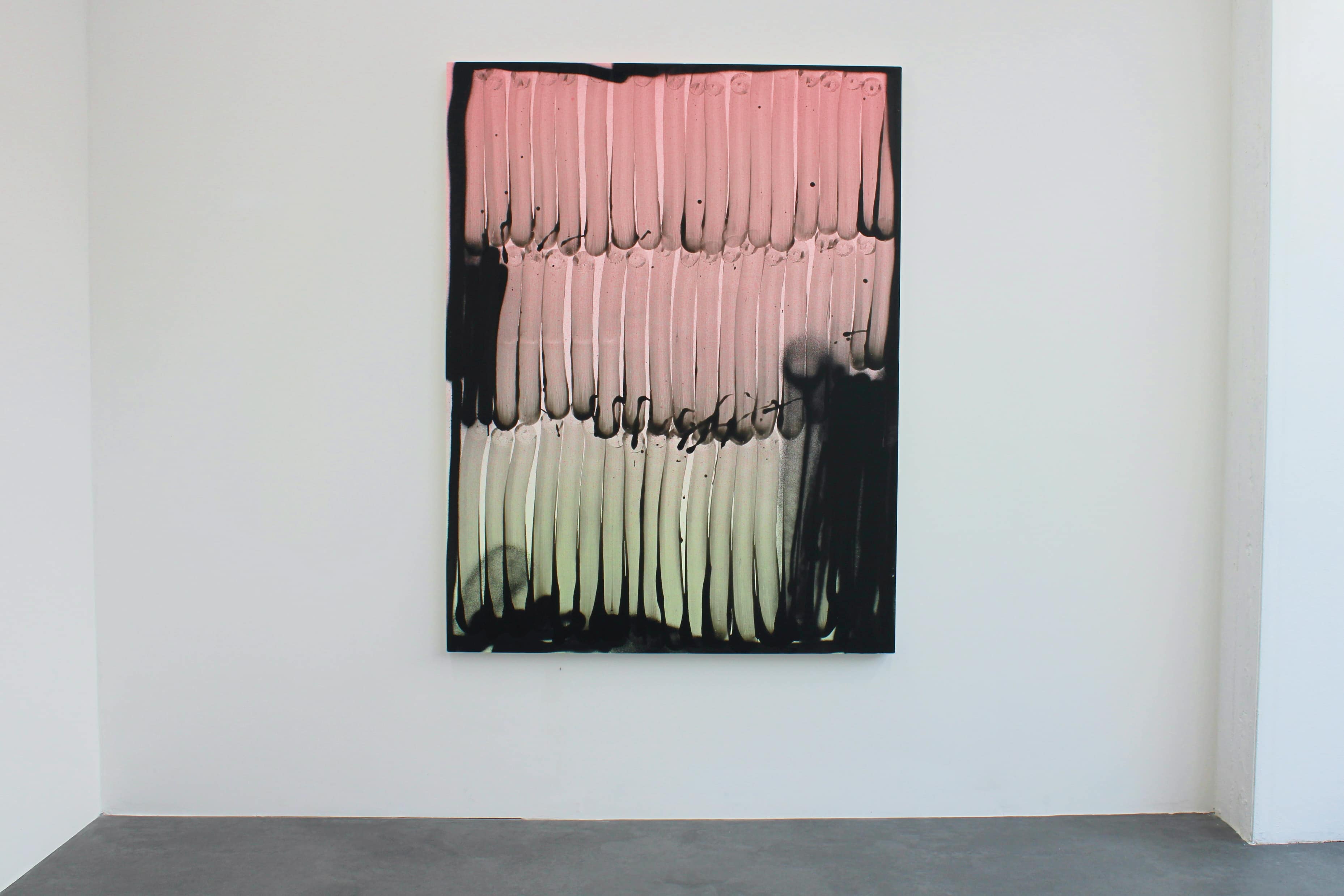 3. Kathryn MacNaughton
Born in 1985 in Toronto, Canada, residing and working in Lisbon, Portugal, Kathryn MacNaughton is an abstract painter best known for her flat and complex canvases, combining hard edges with gradients and a digital and collage-like feeling.
MacNaughton juxtaposes gestural lines with different colors and textures, using acrylic paint on canvas. Her works seem to have been made with paper cutouts in the tradition of Henri Matisse's collages, or digital collages creating an illusionistic effect by adding shadows below specific gestural shapes.
MacNaughton has been on the rise for the past few years with her unique and strongly recognizable visual language. As a result, she is represented by galleries such as MAGMA Gallery or BEERS London, had a residency at Pada Studios in Lisbon, and has been featured in publications such as Elle Magazine, District-W, or The Coveteur.[3]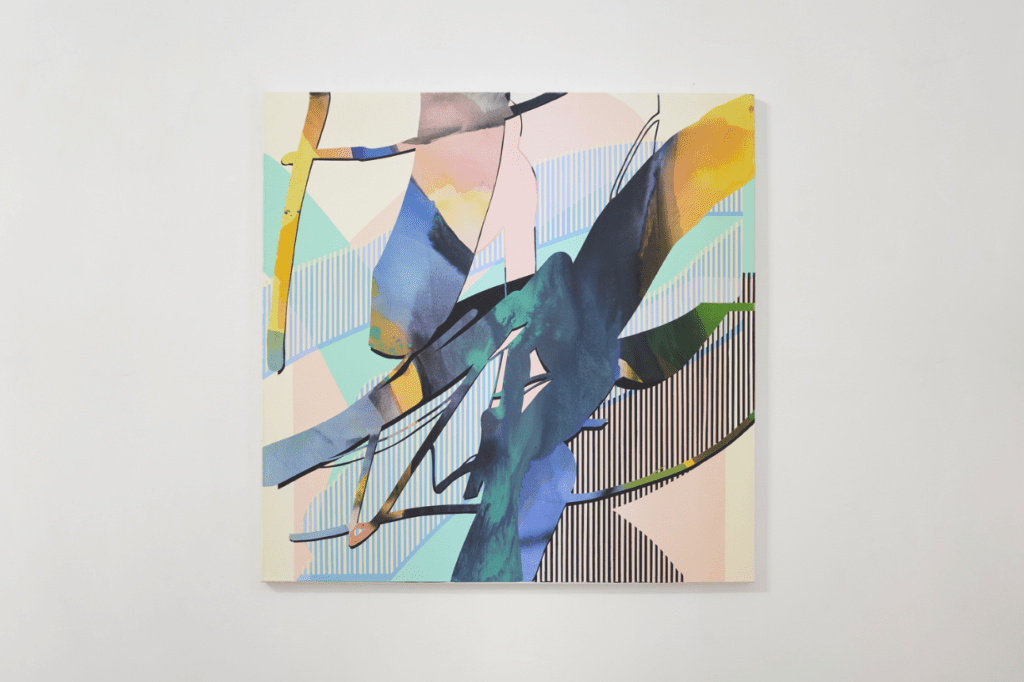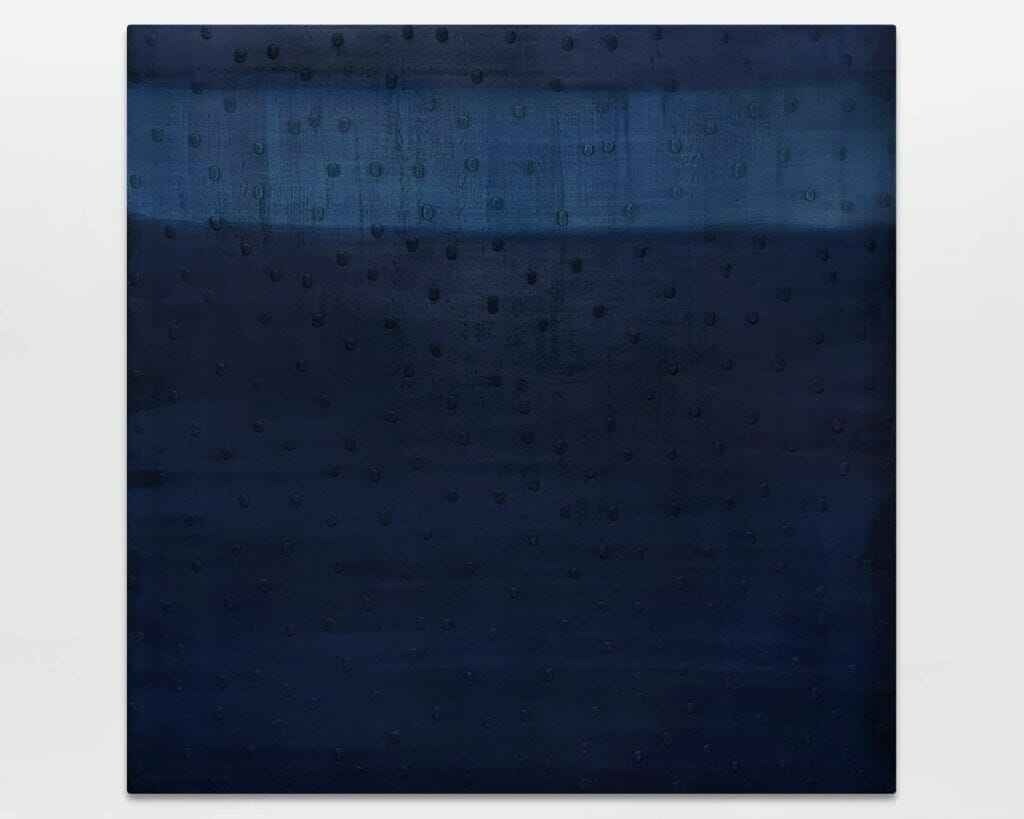 4. Maya Makino
Up next, we have none other than the Japanese painter Maya Makino, represented by our CAI Gallery program. Born in 1980 in Kanagawa, Japan, based in Tokyo, Japan, Makino is best known for her unique indigo blue paintings on panel, soaking the panel with a single dye instead of painting it.
The minimal visual language, unique textures using a traditional Japanese shell lime gesso called gofun, and the intensity of color create paintings with an almost spiritual and contemplative character. She captures and preserves experiences of witnessing scenes or memories of the past just before they fade into oblivion. Think of the quietness of the night, the scent of a flower, or the sound of the rain.
Makino exhibited at nationally renowned institutions such as the Fujisawa Art Space in Kanagawa, the Ueno Royal Museum in Tokyo, the University Art Museum in Tokyo, and the Fuchu Art Museum in Tokyo. National public collections are collecting her, and her works are now finding traction in Europe and the United States, showing the most promising signs for the future development of her career on an international level.
For any further inquiries on Maya Makino, feel free to ask a catalogue with available works here.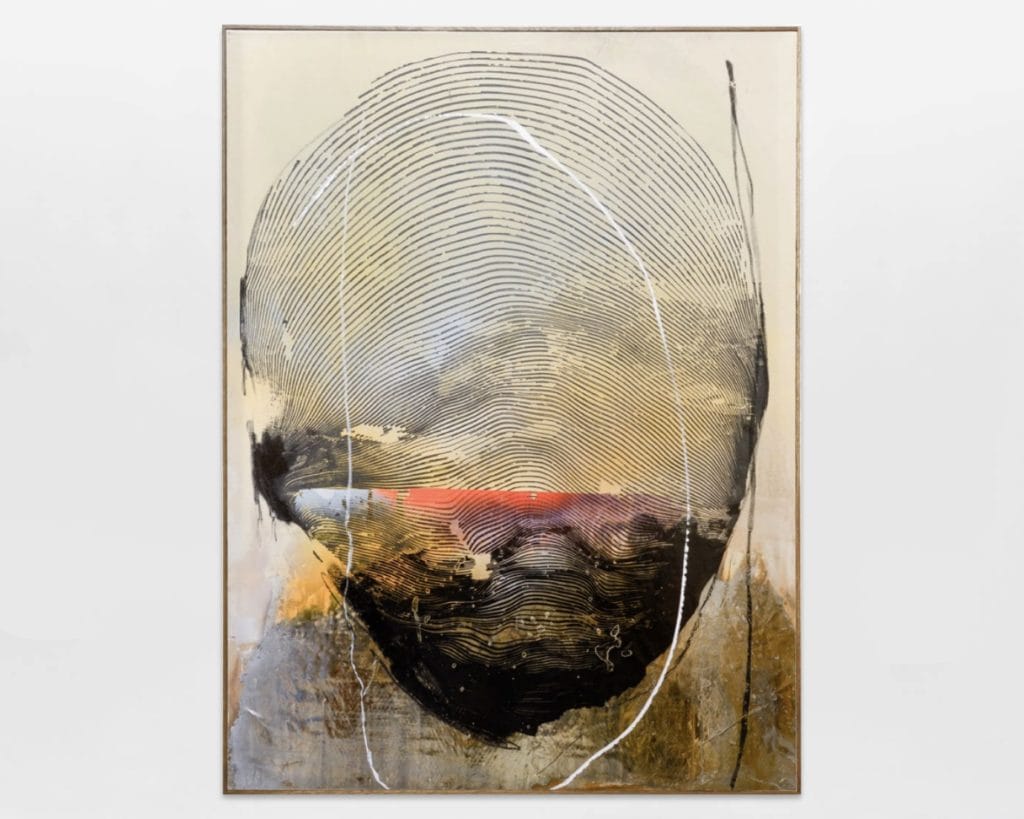 5. Marco Reichert
Marco Reichert, born in 1979 in Berlin, Germany, where the artist continues to work and reside, is a contemporary painter combining programming, computer technology, and machinery with painting. Reichert creates unique structures of black and wavy horizontal lines reminiscent of a fingerprint or a veiled face.
These lines engage in a dialogue with the artistic interventions by the artist. Think of slashes of paint, gradients, spray paint, or even metallizing certain parts of the canvas, resulting in a visual synergy of what is computer-made and what is man-made.
The past few years, Reichert's characteristic motif of these veiled faces or fingerprint structures has caught on strongly, resulting in a place in our list of the 7 Emerging Artists To Watch in 2022. He participated in solo and group exhibitions at renowned institutions, think of the Georg Kolbe Museum in Berlin and the Freies Museum in Berlin. As a result, Reichert is undoubtedly one of thé artists to collect at this very moment.[5]
For any further inquiries on Marco Reichert, feel free to ask a catalogue with available works here.